Episodes
Season 1 2015-TBA
Cartoon Network/Boomerang US
Ratings in Millions
1, "Mystery 101" Oct 5 2015/Oct 5, 2015 (October 4 2015 UK)
Ratings: CN 1.35/BOOM 0.29 Combined 1.64
Velma's got an interview at the prestigious Kingston University, the most selective school in the country. The only catch? The dean wants her and the rest of the gang to figure out why the ghost of Elias Kingston the school's founder, is haunting Kingston's book-filled halls.
2. "Game of Chicken" Oct 6 2015/Oct 12, 2015
Ratings: CN 1.08
BOOM 0.23
Combined 1.31
When Fred gets an exasperated call from his friend Chuck
asking for assistance, the gang must save him from a chicken warrior.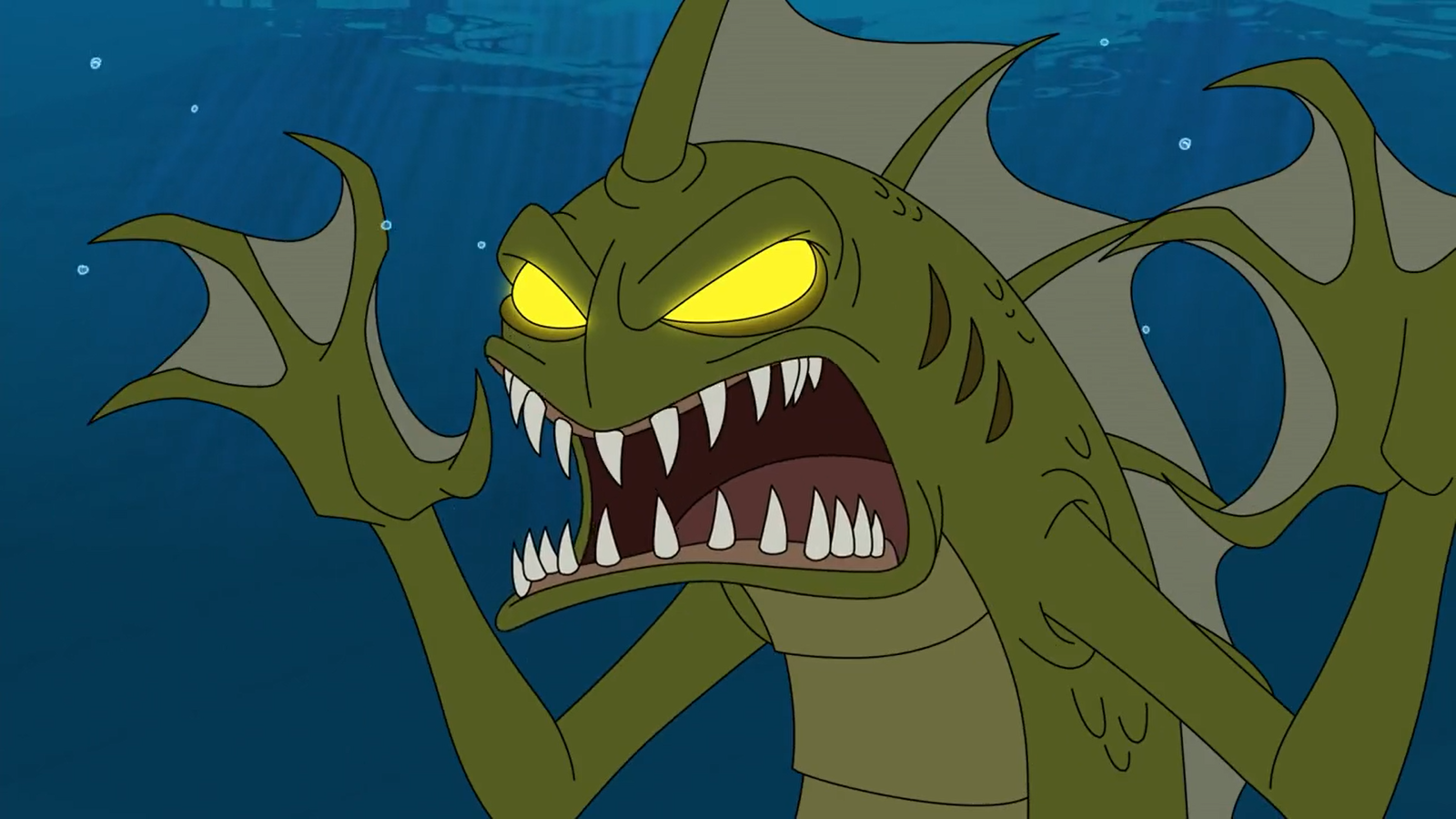 3.
"All Paws on Deck"
Oct 7 2015/Oct 19, 2015
Ratings: CN 1.15 BOOM 0.27
Combined 1.42
The Gang climbs aboard the cruise ship run by Fred's cousin despite Velma's strong dislike of water.
4. "Poodle Justice" Oct 8 2015/Oct 26, 2015
Ratings: CN 1.43/BOOM ?
The gang visits the set of Scooby's favorite TV show and he meets a dog actress who plays a detective on screen. But when the set is attacked by a Gargoyle, the gang investigates.
5. "Grand Scam" Oct 9 2015/Nov 2, 2015
Ratings: CN 1.21
BOOM 0.19
Combined 1.40
Shaggy takes the gang to the baseball stadium he used to go to when he was a kid, but when a ghost baseball player begins haunting the building, he must quickly become brave, or watch his childhood hangout be condemned forever!
6. "Trading Chases" Oct 12 2015/Nov 9, 2015
Ratings: CN 1.01
BOOM 0.21
Combined 1.22
When a tour guide bets he could lead the gang better than Fred, they both switch places when the gang has to solve the mystery of a ghostly pharaoh. Meanwhile, Daphne takes up falconry.
7. "Be Quiet Scooby-Doo" Oct 15 2015/Nov 16, 2015
Ratings: CN 1.37
BOOM 0.23
Combined 1.60
Scooby and the gang visit the Crystal Canopy, which is the home to numerous breathtaking crystal formations. The problem is, the gang has to stay quiet the whole time, otherwise the crystals will fall!
8. "Party like It's 1899" Oct 19 2015/Nov 23, 2015 (Oct 4 2015 UK)
Ratings: CN 0.69
BOOM 0.24
Combined: 0.93
Daphne brings the Gang to a Victorian murder mystery party, so they can dress up and solve a fake mystery for once. But when an actual Headless Count starts actually kidnapping people, the gang must stay in character as they tackle the real caper!
9. "Screama Donna" Oct 20 2015
Ratings: CN 0.69
BOOM ?
To solve the mystery of a ghostly performer haunting her former venue, the Gang has to pretend to be a rock band themselves! But can they solve the case before Velma has to actually get on stage and sing?
10. "Kitchen Frightmare" Oct 21 2015
Ratings: CN 0.76
BOOM ?
Shaggy and Scooby's favorite chef is finally opening his own restaurant but a monstrous Yeti threatens the opening night. The gang has to solve the mystery before dessert is served and Shaggy and Scooby have to resist eating all the food that's meant for the customers!
11. "Me, Myself and AI" Oct 22 2015
Ratings: CN 0.81
BOOM ?
The gang visits a technology company to solve the mystery of an evil robot who has been wreaking havoc.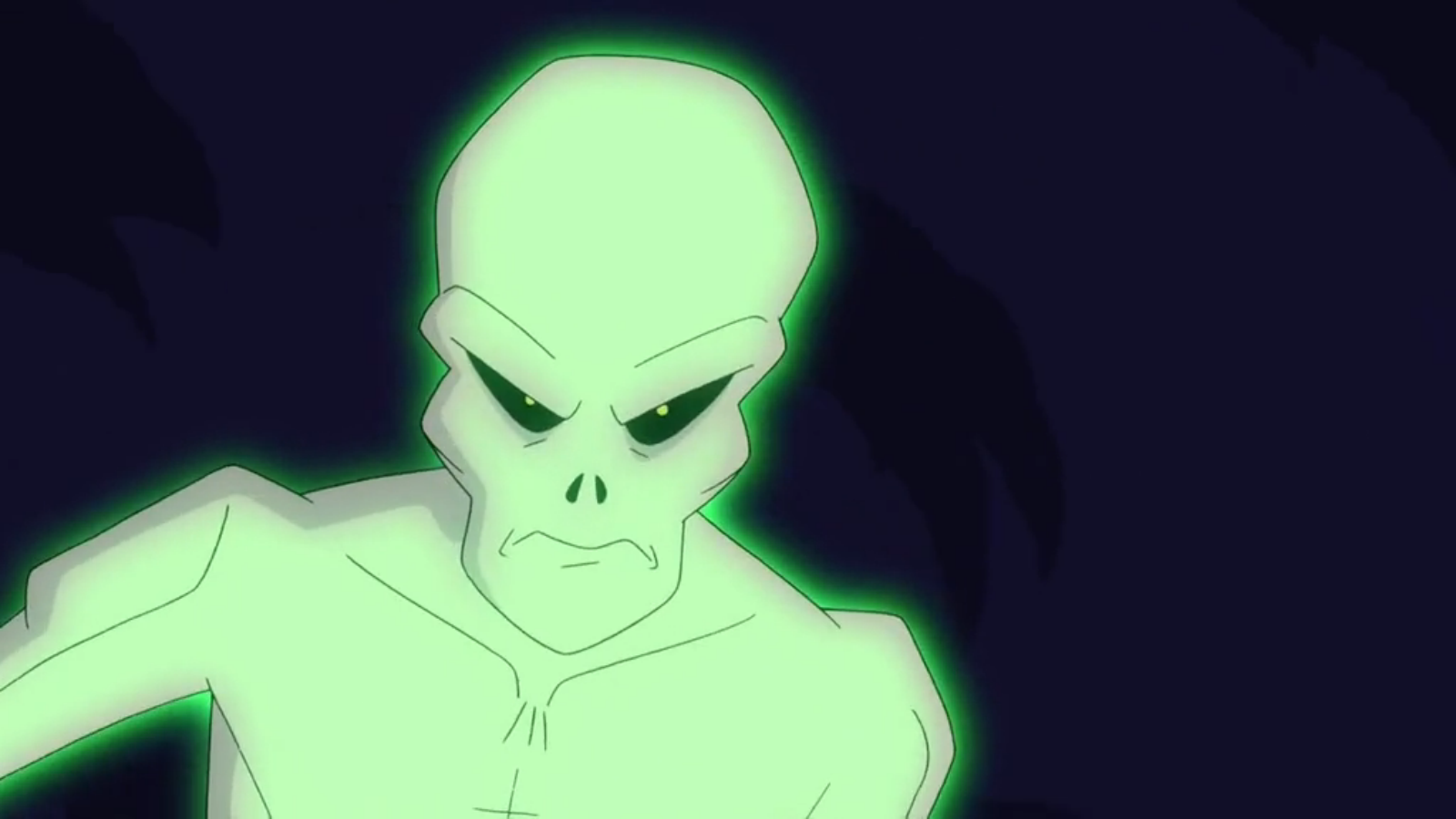 12. "Area 51 Adjacent" Oct 23 2015
Ratings: CN 0.87
BOOM ?
The gang is mistaken for aliens and are taken to Area 53 for questioning. Meanwhile, when a real alien goes on the loose, the gang must try to figure out a way to escape and capture the extraterrestrial.
13. "Where There's a Will, There's a Wraith"
Ratings: CN 1.11
BOOM ?
Oct 28 2015
In an adaption of the original "Where are You"
episode "A Night of Fright Is No Delight," Scooby inherits a fortune from a recently deceased rich man, but only if he and the gang stay the night in the man's mansion with a terrifying wraith.
14. "Scary Christmas"
December 10, 2015
Ratings: CN 1.35
BOOM?
The gang visits the town of Rockwellville in search of a Christmas mystery, but all they find is a pterodactyl who seems to have nothing to do with Christmas. Meanwhile, Daphne, who is tired of having her December 25th birthday overshadowed year after year, tries to convince the gang to celebrate her birthday instead of Christmas
.
14. "If You Can't Scooby-Doo the Time, Don't Scooby Doo the Crime" Feb 6, 2016/Oct 31, 2015 (Digital Stores)
Ratings: CN?
BOOM?
Fred takes the gang to visit The Vault, an old prison that is haunted by the ghost of Stealin' Sam, who died trying to escape from the prison.
16. "Gremlin on a Plane"
Feb 13, 2016
Ratings: CN?
BOOM?
The gang goes aboard the
Air Gigantica
and tries to stop a gremlin from sabotaging the flight. Meanwhile, after the pilot quits, Daphne has to try to land the plane safely before it crashes.
17. "Sorcerer Snacks Scare"
18, "Saga of the Swamp Beast"
19. "Be Cold, Scooby-Doo"
20. "Giant Problems"
21. "Eating Crow"
22. "Scooby-Dooby-Do"
23. "El Bandito"